I took a page out of the Blair Waldorf playbook this week and decided to pay homage to the looser-than-Serena's…erm…morals dress code established at Constance Billard School for Girls (sorry, though – I had to pass on the headband this time).
Let's break it down. I'm obsessively into white oxford shirts lately – I have multiple sleeveless, short-sleeved, and long-sleeved, and they go with absolutely everything.  Obviously, this isn't a new discovery – fashion bloggers and writers have been crowing about them for years – but it doesn't mean they're not still the nude lipstick of every girl's wardrobe.
Current love: Banana Republic's Wrinkle-Free button-ups.  They are magic.  They fit like a dream, look super chic, and really are almost impossible to wrinkle.  How do they do that?  They must have house elves working for them or something.
The yellow blazer in this outfit adds a much-needed pop of color to an otherwise understated look.  Plus, yellow is just the color of happiness, so always a good choice.
I'm wearing: Banana Republic yellow blazer.  Banana Republic white button-up.  Cynthia Rowley polka-dot shorts.  Coach purse.
Shop the Look:
  Topshop 'Kara Crepe Crop Jacket from Nordstrom.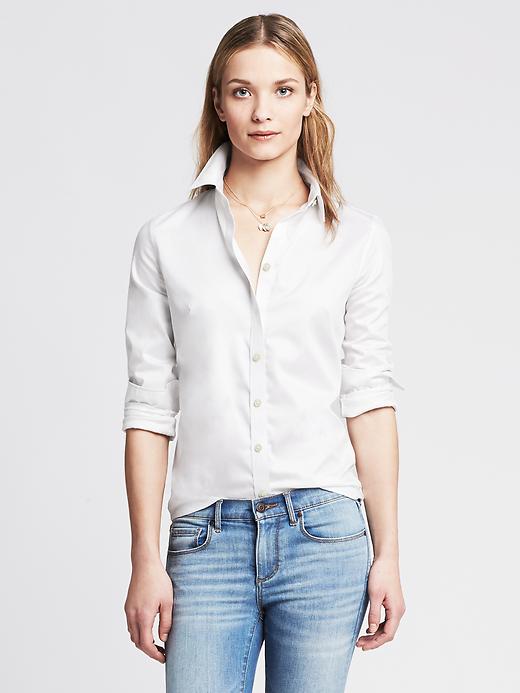 Banana Republic Fitted Non-Iron Sateen Shirt.
  Forever 21 Floral Embroidered Shorts.
  Coach Bleeker Preston Satchel.
What I'm Listening To:
This outfit is making me feel like a badass.  Like I'm a superhero in a prep school who fights crime on my lunch break or something.  So here's some ass-kicking music for your pleasure, starting with "Boom Clap" from my pal, Charli XCX.